In December 2021, amid thousands of asylum seekers in the Mytilene camp on the Greek island of Lesbos, Pope Francis entreated the world, "Please let us stop this shipwreck of civilization." Joining a sociologists trained eye with a poet's open heart, Becky Thompson has not only looked into the faces of the dispossessed, but she has also empowered them to speak for themselves in this moving book. The wide variety of poetic forms in To Speak in Salt stands as a metaphor for both the unique suffering of each individual she meets and also for their unique individuality. If the poet cannot stop the shipwreck, she can surely help us feel what it's like to survive it. Read Becky Thompson's new book, To Speak in Salt.  LEARN MORE >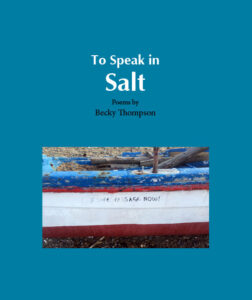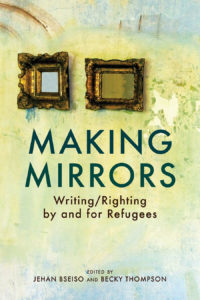 MAKING MIRRORS
Making Mirrors began on two continents, envisioned by Palestinian poet and aid worker, Jehan Bseiso, and Becky Thompson, a US-based poet changed by months of greeting refugees after their perilous journey across the Aegean Sea. This anthology uses mirrors to reflect imagistic connections that allow us to see ourselves in each other, those on rafts and those standing on the shore, those waiting/writing in detention and those writing from places of relative safety, those who lift their children to the sky and those whose bodies are at the bottom of the sea.
Making Mirrors offers a poetics of belonging—to the earth, family, and memories packed into backpacks. The poems go beyond refugee/citizen binaries and illuminate exile as a forced/creative space. As the refugee crisis fades from the front page of newspapers, this collection is a plea against historical amnesia and inertia; the poems are an antidote that reaches beyond despair to renewed action. LEARN MORE >
TEACHING WITH TENDERNESS: TOWARD AN EMBODIED PRACTICE
Imagine a classroom that explores the twinned ideas of embodied teaching and a pedagogy of tenderness. Becky envisions such a curriculum–and a way of being–that promises to bring about a sea change in education. Read Becky Thompson's new book, Teaching with Tenderness: Toward an Embodied Practice.  LEARN MORE >
"I love this radical book down to its tiniest footnote."
-Mary Rose O'Reilley, Author of The Peaceable Classroom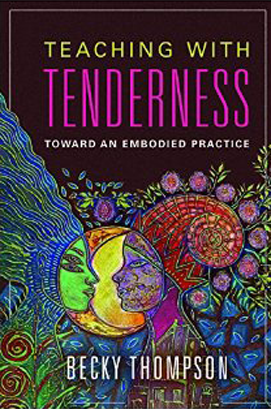 NEW CHAPBOOK OF POETRY, JUSTONICS
A chapbook of visual poems that crave color and insist on dancing. Justonics is a made up word that combines justice and ebonics to create a popular vernacular that breathes its way into music, art, and activism. Du Bois and Hancock (Herbie) become verbs, tomboys twirl on a fireman's pole, and Buddha bells startle convention. 
Boston Poet Laureate, Danielle Legros Georges writes, "Becky Thompson hurls us into the space in which language is born…Justonics gives us a new way to read ourselves and our world." LEARN MORE
UPCOMING EVENTS:

Making Mirrors has been chosen as a featured book by the National Women's Studies Association. The panelists include Angela Davis, Ashwini Tambe, and Maytha AlHassen. November 15, San Francisco, California.